Do you have digestive problems such as gas, bloating, diarrhea, or constipation? Do you have a diagnosis of SIBO or Dysbiosis? Are you having problems sleeping? Do you have anxiety and/or depression? Than a microbiome analysis is right for you.
Discover what your gut bacteria are saying about your digestive health. We have known for years that what you eat can affect your health but recently we have been able to unlock the science behind your gut bacteria.  The microbiota (the bacteria living in your digestive track) play an intimate role in how you interact with the world. Believe it or not, everyone's microbiome is unique. So, why are you being treated the same?
Stop guessing which probiotic or supplement is right for you and discover your biochemical individuality with an Utopia analysis. Bacteria such as Akkermansia,  Faecalibacterium, Collinsella, Kluyvera, and many others will be analyzed to determine what is causing your digestive symptoms.
With an Utopia Analysis You Will Receive: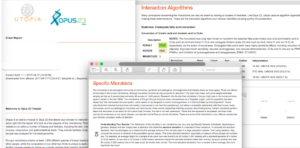 – A targeted naturopathic approach of restoring a proper balance of good bacteria in your digestive track.
– Be able to track your results.
– Find out which natural medications will work best for your specific bacteria environment.
– Discover how your microbiota interact with your DNA.
– Understand which foods and medications are right 4 your type.