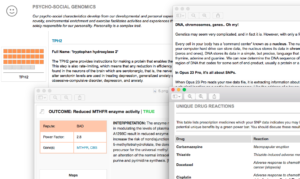 Opus23 Pro is a software program that helps Dr. Brody interpret raw genomic data from Ancestory and/or 23andMe, an outside company that performs genomic analysis. Dr. Brody, will take your raw data from these companies and run it through Opus23. He will then translated it into clinically relevant and important information that he can use to institute preventive or therapeutic actions. This provides an environment that allows for precision personalized care.
During your Opus23 visit, Dr. Brody will analyze and interpret your raw genomic data. This program allows Dr. Brody to perform a series of extraordinarily sophisticated analytics for discovering the hidden secrets of your DNA. Dr. Brody can then investigate any precautions or changes you can perform to have a healthier lifestyle. With the Opus Visit, Dr. Brody will perform a complete medical examination, which includes a medical intake, physical examination with urine analysis, and treatment protocol.
How it works
Most genomic test report over 700,000 individual genetic markers called SNPS (pronounced 'snips'). SNP stands for 'single nucleotide polymorphism.' Which simply indicates that at some point in the genome there was a variation in one of the letters of DNA (A, T, C,& G)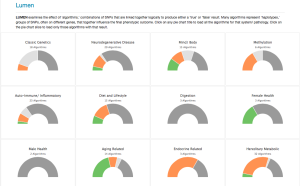 from what was normal to be expected. For example, a person might have an SNP with a 'C' at that location, whereas a 'T' would normally be expected. SNPs are very common, as each of us are uniquely different genetically from each other. Many SNPs have been associated with certain risks (such as diseases or susceptibilities.)
Opus23 combs through the results and looks for these special SNPs. It then activates its own analytic machinery and reports back to the physician any areas of special interest. This type of testing would have cost many tens of thousands of dollars as little as a few years ago; the fact that it is available at such a reasonable cost is a testimony to the amazing developments in modern technology.
Patients receive a personalized printout of their genetic analysis that will consist of:
General blood type information (ABO, Secretor, A1/A2, etc)
Genetic exploration of your DNA to see what mutations you have
Preventive analysis to see what diseases you are susceptible to
Drug side effect/benefit analysis to see how you respond to certain drugs
Basic food analysis (beneficial and problematic foods list)
Environmental analysis showcasing causative factors of diseases
Basic genetics overview
List of your high yield genetic mutations
Supplement protocol based on your genetic information
Steps towards an Appointment:
Schedule the Opus23 consult 10 weeks in advance with the front desk
Purchase an Ancestry test kit from www.ancestry.com/dna
Carefully follow all the instructions when the kit arrives. Collect a saliva sample, fill out all forms, and mail it back to Ancestry in the pre-paid package immediately. Be sure to register your saliva sample tube using the bar code, which identifies it, belongs to you before mailing it back. 

Provide raw data to the clinic once you've received e-mail notification that your test results are ready. You can either:

Supply us with your login information and we will download it for you, or
Download the raw data file and email it to Support@BrodyND.com