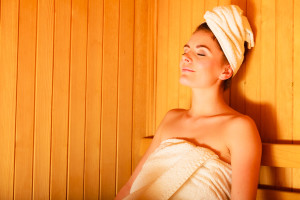 Hydrotherapy works so well because it acts to stimulate the body's own healing force.  The benefits of constitutional hydrotherapy include: improvements in; sleep digestion, bowel function, increase energy level, and reduction in chronic pain. Hydrotherapy is the use of hot ad cold water for the maintenance of health and treatment of disease.  This is instrumental in lessing pain sensitivity, invigorating blood flow and circulation, increasing production of stress hormones, and stimulating the immune system.  Hydrotherapy's more conventional uses are the treatment of muscle weakness, balance disorders, diabetes, cramps, PMS, arthritis, back pain, musical-skeletal injuries, and soft tissue injuries.
During the treatment the patient lies comfortably on a soft table while hot towels are applied over the upper torso. The person is then wrapped in a sheet an covered with several layers of blankets. Once the skin is warmed, a single cold towel is exchanged for the heated one. The body, well prepared by the preceding warmth, reacts to this importer change by greatly increasing the blood flow to the skin and internal organs of the chest and abdomen.
To enhance these effects, a mild electrical stimulation is applied over the spine during treatment. Certain modifications maybe made during the therapy depending on the person's ability to react to it and the type of disease being addressed.
We have found that for the best results, constitutional hydrotherapy should be repeated 2 or 3 times per week for several weeks.  The number of treatments needed is in part determined by your specific illness and your physician. Many of my patient shave found it extremely beneficial to combat the early onset of a cold or flu or just as a treatment to make them feel better following a stressful period in your their life.