We're Growing!
Dr. Robert Brody is pleased to announce the official opening of his insurance-based practice in Newtown, CT.
At the new location for Personalized Natural Medicine, Dr. Brody will continue to offer full body Naturopathic treatments including general health, Opus23 genetic analysis, SWAMI diet and nutrition analysis, manual adjustment therapy, acupuncture therapy, and more.
Insurance-Based
The Newtown, CT office is insurance-based. We currently accept Cigna and Blue Cross Blue Shield. Aetna, Connecticare, and UnitedHealthcare will be available soon.
Convenient Hours
We are very excited about being able to offer affordable natural medicine in conjunction with flexible evening and weekend hours. We hope you will visit us at our new location at 33 Church Hill Rd. Newtown, CT. For more information or to book an appointment, please call (203) 270 – 0070 or click here.
Newtown Office Hours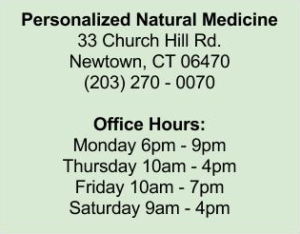 Dr. Brody is still seeing patients at Dr. D'Adamo's clinic, Center of Excellence in Generative Health in Bridgeport, CT on Tuesdays and Wednesdays. To make an appointment at the COE, please call (203) 366 – 0526.