Naturopathic Care for All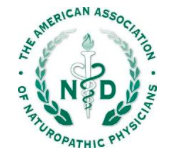 As many of you know I have been involved with Naturopathic legislative efforts for years. I have made it my mission to give everyone will have the right to choose their doctors. I want people to have the choice of safe natural medicine from qualified physicians and furthermore have covered by insurance.
Two letters have begun circulating in the U.S. House of Representatives – one that will go to the Secretary of Health and Human Services, the other to the Secretary of Veterans Affairs.  Both emphasize the value for patients of increased access to licensed Naturopathic Doctors.  Both letters also have bipartisan support.
Please take a moment to urge your elected Representative to sign both letters (ideally), or at least one.  Patients will benefit from self-empowering preventive care that is also highly cost-effective.  That's something any lawmaker should like!
If you have a friend or loved one who would like access to Naturopathic Medical Care but cannot due to state laws or they are in the military, please click here!  It's easy and takes less than a minute. This is a chance for you to take charge of your health and the health of the country.
Thank you,