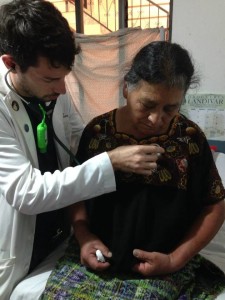 Though the heart may feel like it is on fire, heartburn actually has nothing to do with the heart. The burning sensation actually comes from acid in the stomach which sits below the heart. The burning pain that is sometimes felt radiates up to the center of the chest, which is where the term "heartburn" comes from. In modern medical terminology, heartburn is called GERD, which stands for Gastro-Esophageal Reflux Disease.
Understanding the reason for the heartburn is the key to prevention and healing. While symptomatic relief is important, it doesn't do anything for prevention and healing. Looking at everyone as an individual is important, which is why I tend to ask new patients for their blood type. It has been known for decades that the amount of stomach acid produced varies by blood type. Blood type O's generally produce more stomach acid than any other blood type, followed by Blood Type B's and AB's, with Blood Type A's producing the least. Beginning with blood type helps us to investigate whether the heartburn is caused by excessive stomach acid or a deficiency.
"But my doctors have always told me that I have too much stomach acid and that is the reason for my Heartburn."
For Blood Type As, eating a diet that is high in animal protein will require the body to make a lot of stomach acid fast in order to break it down, which can lead to heartburn. For Blood Type O's, there is already a high amount of stomach acid in the stomach. If it doesn't get used to break down animal proteins, you may get some heartburn as the acid travels up into the esophagus.
"Can't I just take a pill to stop heartburn?"
Of course you can take a pill to stop the heartburn but pills that address the symptoms don't help heal the gut or prevent future attacks of heartburn. I like to think of the common allopathic drugs for heartburn such as Nexium and Prilosec as the jack hammers of heartburn when all that is need is a 5oz tac hammer. These drugs completely shut down acid production so the patient is left with relief but not resolution.  We need stomach acid for many things including the breakdown of protein and the absorption of a few different vitamins and minerals. By using a combination of diet and supplements, we can help heal the root issue of your heartburn.
"What can I do to prevent and heal the damage caused by heartburn?"
It always comes back to diet.  What you eat is very important.  Stop and think about it: ideally, you are eating three meals a day.  We want to turn those three meals a day into medicine. By eating the right things we can succeed in this regard.  It's more than just avoiding coffee and acid causing foods. It goes deeper than that. This is where eating for your type comes into play. When you eat according to your blood type you will be amazed by just how many of your simple complaints such as fatigue, headaches, etc start to disappear. Diet in conjunction with taking natural supplements will aid the stomach in producing less acid.
"But I have an H. Pylori infection"
In these instances I take another approach.  I like to use an heuristic to address heartburn that occurs alongside H Pylori infection.  If H. Pylori is the cause of your heartburn, by adding safflower into your gut, the H. Pylori will preferentially bind to it instead of your stomach and consequently be removed from the body with the rest of your waste.  There are also many other supplements, medical herbs, and vitamins that I use to help your gut heal itself so we can prevent and heal from the effects of heartburn.
If you or a loved one suffers from chronic heartburn or if you are just trying to find a way to stay living healthy please make an appoint with me at the Center of Excellence in Generative medicine at 203-366-0526.