Dr. Brody's Natural Approach to Mental Health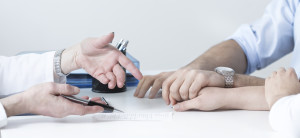 Many people suffer from some sort of depression at one point in their lifetime.  This can be due to the death of a loved ones, times of excessive stress, relationship hardships, neurotransmitter imbalances, and/or genetics. If you are suffering from depression, it is best to work with your health-care team to find the best treatment possible.  One of the major areas people with depression forgot to look at is their diet.  This is something that you are consuming 3 times daily and could have a major impact on your mental health.  If you are eating the wrong types of foods (this even means the wrong types of healthy foods) you are in a sense causing more inflammation in your body.  Your bodies resources are then diverted to control that inflammation and you are left with a poor mood.  I have found that certain blood types have different mutations which can make it harder (if not controlled) to beat depression.  One of the main mutations is an enzyme called DBH.  This enzyme when over-active puts you more into a fight or flight response and not the loving, caring state.
Things you can do to balance out neurotransmitters
Drink Pomegranate Juice.  Some bacteria in your digestive tract make Serotonin. By giving these guys the proper diet they can produce more of this brain chemical.
Follow your SWAMI Diet. This diet is personalized for you and more emphasis can be placed on the foods that modulate DBH, thus increasing Dopamine.
Exercise for your Blood Type. BTO's should hit the gym regularly and BTA's should add Meditation into their routionne. While exercise is beneficial for all, different people will gain different results based o their genetics and blood type
Hug a friend or family member daily.  This has been shown time and time again to increase the feel-good brain chemicals.
Do not start an Exercise, Diet, or Natural Medicine Routine before talking to your doctor first. Depression is a serious disorder and medical care should always be sought out.
Services and Tests To Help You Heal Faster:
Free Discovery Session
A free Discovery Session includes analysis of your blood type, receiving dietary advice, and supplement suggestions with no obligation.
To schedule a free discovery session, please contact Meaghan at the Personalized Natural Medicine Clinic, located in a beautiful Victorian house in the heart of Newtown, Connecticut.