Dr. Brody's Natural Approach to Hormones
HYPOthyroid or Hypothyroidism can be a result of a number of factors but the most prominent symptoms that one has to deal with are weight gain, fatigue, dry skin, hair loss, constipation, memory loss and a decreased libido.  Your thyroid gland itself sits over your windpipe and releases hormones that travel to all the cells in your body and either tells them to slow different biological processes down or speed them up.  In hypothyroidism, your thyroid is not releasing thyroid hormones hence telling your body to slow down which accounts for the above symptoms. This is the opposite process that happens in hyperthyroidism where your thyroid gland releases too many hormones telling your body to speed up.  The common symptoms associated with this include weight loss, rapid heartbeat, increased hunger, sweating, nervousness, diarrhea, fatigue, etc.
If you take a step back and try to understand why your body has these symptoms, you will see that symptoms are your body's way of communicating that there is a problem.  With a proper diet and the correct supplement protocol, you can find relief from even the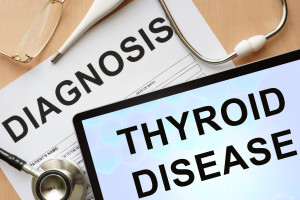 worst thyroid conditions. I have worked with a number of patients over the years who no longer have thyroid problems.
Supplements to help your Thyroid
(Please speak to your doctor before starting any new supplement)
Ashwagandha–This herb can help balance TSH Levels
Probiotics–The bacteria in these supplements can help remove a bacteria called Yersna entercolitica

 which is linked to different thyroid diseases.  

Fucus vesiculosus–This seaweed might be beneficial for you if you have hypothyroidism
Iodine–This mineral might be low in your body which might affect your thyroid.
Services and Tests To Help You Heal Faster:
To schedule a appointment, please contact Meaghan at the Personalized Natural Medicine Clinic, located in a beautiful Victorian house in the heart of Newtown, Connecticut.