Dr. Brody's Natural Approach to Hearth Health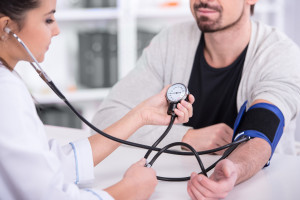 Hypertension elevated blood pressure. Blood pressure is the force in your arteries and veins that allow your blood to travel around your body. It is an important force because healthy heart function depends on steady blood pressure. The heart muscle is constantly pumping blood and during this process, it acts just like a sponge; the heart fills up with blood, then squeezes it all out. This process accounts for the two different numbers that make up your blood pressure measurement. The first number represents the part of the cycle when the heart contracts and squeezes the blood out, aka systole. The second number is the measurement of pressure when the heart is filling with blood. This part of the cycle is called diastolic.
Normal adult blood pressure ranges between 90/60 mmHg and 120/80 mmHg. The top number is the squeezing pressure of the heart (systolic) and the lower number is the filling pressure of the heart (diastolic). These numbers are measured with a stethoscope and a blood pressure cuff on your arm.
Though healthy blood pressure is critical to your body's health, roughly 1 in 3 American adults suffer from high blood pressure, also known as hypertension. High blood pressure is dangerous because it means the heart is working extra hard to pump blood through itself and into your arteries. This can lead to more complications and severe health problems down the road if not properly treated.
Vitamins to help Hypertension
(Please speak to your doctor before starting a new vitamins or supplements)
CoQ10–This simple supplement can help your cells produce energy allowing the heart muscle to relax
Taurine–This amino acid is premium fuel needed in the heart
Dandelion Tea–This tea acts as a diuretic, which moves water in your body taking pressure off your heart.
Magnesium–This simple mineral acts as a calcium channel blocker, relaxing the heart. Magnesium is use in mothers who develop hypertension in the hospital while pregnant.
Services and Tests To Help You Heal Faster:
To schedule a appointment, please contact Meaghan at the Personalized Natural Medicine Clinic, located in a beautiful Victorian house in the heart of Newtown, Connecticut.