Dr. Brody's Natural Approach to Rheumatoid Arthritis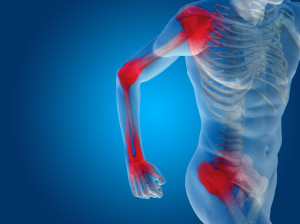 Within this disease process of Rheumatoid Arthritis (RA), your body is attacking your joints.  It can be doing this for a number of different factors but truth be told it's not a fun diagnosis.  Rheumatoid Arthritis is a type of connective tissue disease where antibodies are being directed to your joints.  This can lead to; painful joints, swelling, warm joints, bone deformities, pain, bumps under the skin, weight loss, etc.  
Calming down your immune system and controlling inflammation are key steps in the treatment of Rheumatoid Arthritis.  This is where diet and nutrition come into play.  It has been known for many years that Blood type O's and arthritis are linked.  This is due to a chemical called Wheat Germ Agglutinin aka WGA.  This WGA likes to bind to blood type O receptors on your red blood cells and it's this process that gets your body's attention.  This process gets noticed by your immune system and the disease process ensues.  This is a natural approach to the treatment and management to Rheumatoid Arthritis by a Naturopathic Physician is crucial.
Services and Tests To Help You Heal Faster:
Free Discovery Session
A free Discovery Session includes analysis of your blood type, receiving dietary advice, and supplement suggestions with no obligation.
To schedule a free discovery session, please contact Meaghan at the Personalized Natural Medicine Clinic, located in a beautiful Victorian house in the heart of Newtown, Connecticut.