What is Celiac Disease?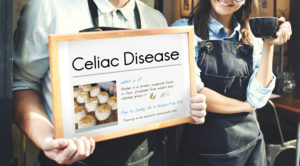 Celiac disease is a process where your body makes antibodies to gluten. Gluten is a protein that is found in different grains such as wheat, rye, and barley.  This process initiates an intense immune reaction and causes some of the cells within your digestive track to get attacked with the gluten.
The disease process in Celiac Disease is different from someone who is gluten intolerant or sensitive. Celiac Disease is an autoimmune disease. Gluten intolerance or sensitivity is not. If you are gluten sensitive, the symptoms you are experiencing are a reaction to a specific lectin. This lectin is called Wheat Germ Agglutinin (WGA) and is found in many grains including wheat.
Dr. Brody's Natural Approach to Autoimmune Diseases
While some of the symptoms might be the same in both Celiac Disease and a gluten sensitivity, the underlying disease process is different and thus the treatments would differ too. Needless to say, with Celiac Disease you want to control your symptoms (gas, bloating, pain, diarrhea, bloody stools, skin rashes, muscle cramps and nerve pain). This includes making the appropriate dietary changes along with finding other ways of controlling inflammation and halting the autoimmune process. 
Services and Tests To Help You Heal Faster:
Free Discovery Session
A free Discovery Session includes analysis of your blood type, receiving dietary advice, and supplement suggestions with no obligation.
To schedule a free discovery session, please contact Meaghan at the Personalized Natural Medicine Clinic, located in a beautiful Victorian house in the heart of Newtown, Connecticut.